Simple, but important pieces of advice for longer working life of gearbox
High quality gearbox produced by world-leading manufacturers can guarantee safe and continuous work of your equipment if not the whole enterprise. Beltimport engineers share their experience how to extend working life of this responsible, not cheap and often subjected to loads assembly unit.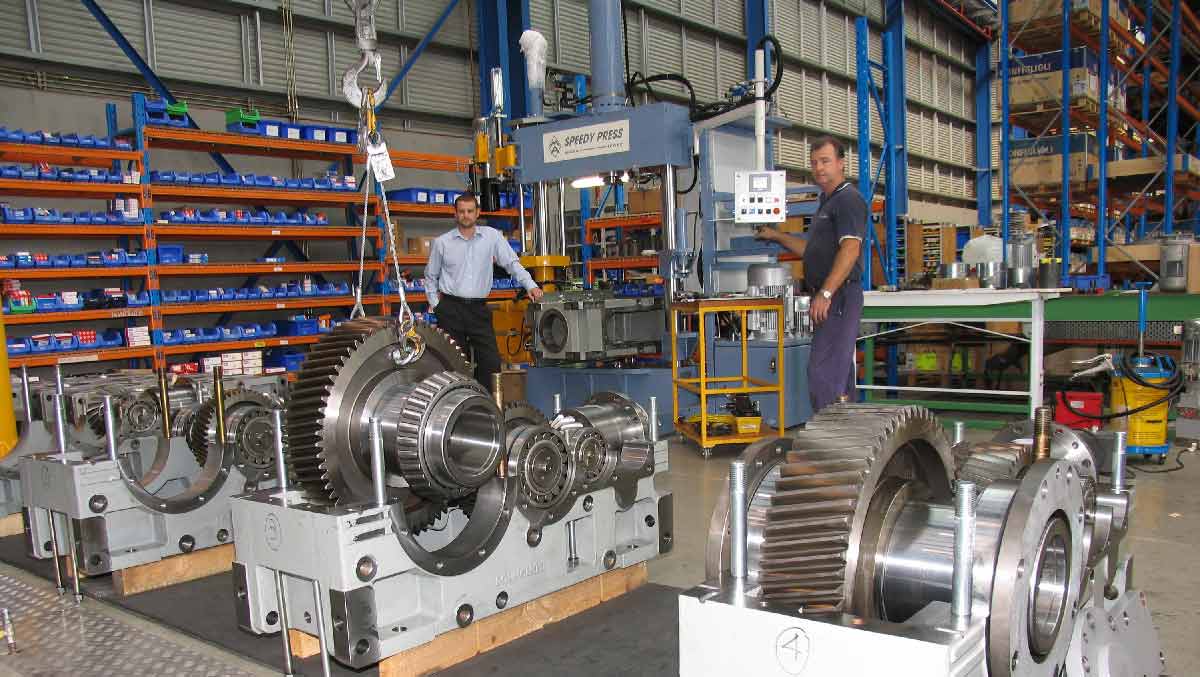 We emphasize 3 main aspects which should be ensured for maximal exploitation period of gearbox:
Proper selection
At this stage several features should be considered such as load conditions, starts/stops frequency per hour, equipment type for which gearbox is designated, duty cycle, exploitation peculiarities and influence of external factors. Based on these criteria, optimal gearbox service-factor (factor of safety) and the most economically efficient type of gearbox must be selected. We can underline that majority of reliable producers rarely recommend factor of safety higher than fs=2, even for high-load working conditions. Axial and radial loads, which act on shafts, are not less important. Attention should be paid while selecting appropriate gearbox, if gear wheel or belt pulley is installed on the shaft. We recommend next options for severe external exploitation conditions such as high temperature, abrasion dust, hostile environment – viton and taconite seals, additional cooling, anticorrosion surface treatment. Backstop is a reasonable solution for inclined conveyors and elevators.
Proper mounting
There is a possibility that appropriately selected high-quality product can be spoiled by making one, but critical mistake during mounting process, even if a right gearbox was chosen. Let's point out several key-recommendations regarding mounting of gearbox:
Rigid and flat mounting surface must be ensured for foot-mounted gearbox.
Coaxial alignment of shafts must be confirmed in case of coaxial mounting; compensating expansion coupling should be applied if it is necessary.
Gearbox must not be rigidly mounted to equipment in case of mounting on shaft, because it will not be able to absorb impacts and vibration which come from equipment's shaft. Torque arms with shock absorbing bushing must be Mounting on shaft is executed with clearance fit.
It is recommended to use hydraulic coupling in case of high-duty motor operation when frequency inverter is not provided.
If there is a risk of maximal allowable torque moment excess, then drive unit should be equipped with torque limiter.
When pulleys or gear-wheels are mounted on shafts, these elements should be mounted as close to gearbox frame as possible for the purpose of load arm minimization in order to decrease radial load on bearings.
Before the mounting it must be ensured that mounting position indicated on its' nameplate matches actual mounting position; it must be ensured that oil level for chosen mounting position is appropriate, positioning of breather plug, relief plugs and oil inspection hole are correct.
Shafts must be lubricated with Kluberpaste 46 MR 401 or with any other antirust past to avoid fretting corrosion (in other words, if you don't lubricate with past while mounting, you won't be able to disassemble mechanical parts after couple of years).
When starting the gearbox for the first time and during further operation, there should be no noise, no vibrations, no shock.
It is not recommended to install gearboxes near heat sources, it is better to provide open ventilated space if possible.
Avoid chemical agents get on oil seals during painting or chemical treatment.
Proper maintenance
As every clearheaded automobilist regularly makes technical maintenance of his car and checks intervals between oil changes, so a responsible for gearbox operation employee have to arrange technical maintenance of this device timely. And your high quality, right chosen, properly mounted drive will serve during years as well as a good serviced car.
We recommend to read operation manual related to each gearbox as, for example, there is no need to change oil in small gearboxes and for big ones, oil changes depend on oil type and its working temperature.
We advise and use synthetic oil, which does not need to be changed up to 25000 operation hours meaning almost 3 years working 24/7.
Very important factor is oil temperature, because an increase of oil temperature at least for 10 degrees can halve its resource, and gearbox operation is strongly not recommended with oil temperature over 95 degrees, as it is not lubricated in a proper way. If mineral oil is used, the negative effect of high temperature increases dramatically...
In order to insure yourself against unpleasant surprises in the form of at least frequent replacement of expensive oil (with conscientious service personnel) before overheating of the gearbox and its early breakdown, we recommend to pay attention to value of thermal power of gearbox during selection stage. The higher this value is the less gearbox and its oil would be heated.
The value of thermal power, adjusted for ambient temperature, can not be lower than power of the applied motor, otherwise - oil overheats.
Among other general recommendations about technical maintenance, we select the next:
Each 24 hours - noise and vibration inspection.
170….720 hours - inspection of gearbox condition, seals condition, inspection of oil level and its leaks.
300 hours - single time service oil change, except gearboxes, which are filled in for the entire period of operation.
2000…..4000 hours - bolt tightening and all connections check.
2000…..4000 hours - lubrication of all bearings and seals (if needed)
3000 hours – inspection of torque arm bush
2000….9000 – inspection of oil in gearbox (presence of impurities, water).
9000….18000 hours – inspection of alignment of shafts.
We wish you trouble-free operation and always remain open for help and advice!